FOOD
US: New York City cracks down on CBD in food and drinks
Health officials in New York City are forcing restaurants and bars to stop selling CBD-infused food and drinks until the substance has been deemed safe to consume.
The Eater reported that the health department had entered the Fat Cat Kitchen and gathered up around $1,000 worth of edibles and marked them as 'embargoed.'
A statement issued by the Health Department read:
"Restaurants in New York City are not permitted to add anything to food or drink that is not approved as safe to eat.

"The Health Department takes seriously its responsibility to protect New Yorkers' health. Until cannabidiol (CBD) is deemed safe as a food additive, the Department is ordering restaurants not to offer products containing CBD."
CBD accounts for a third of the the Fat Cat Kitchen's business, according to co-owner C.J. Helm, who did not understand why a ban on CBD in food and was in place.
"It's like telling me I can buy rum and I can sell rum, but I can't sell a rum baba. It makes no sense."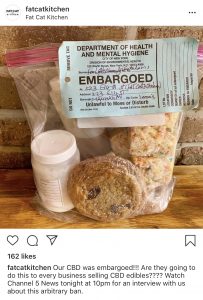 New York is not the only state to take action against CBD foods. Similar enforcement actions have been reported in Ohio and Maine.
The FDA clarified its position on cannabis-derived compounds in December, stating that it is illegal to add CBD as an active drug ingredient into the food supply, regardless of whether or not it is hemp-derived.