CBD101
Which CBD product is right for me?
There are so many ways to take CBD, it can be overwhelming. Find what works for you with our quick guide.
Should I vape?
Vaping is a fast way to absorb cannabinoids into your bloodstream.
E-liquid vaporises at approximately 200°C, producing a vapour which is then inhaled. The CBD then enters the bloodstream through the lining of the mouth, throat and lungs, allowing for rapid uptake.
Legal CBD e-liquids come in a variety of flavours but will not get you high as they do not contain Tetrahydrocannabinol (THC). THC is a Class B controlled drug in the UK and is illegal.
Are vapes dangerous?
Reports of serious lung damage in vapers emerged in the US in 2019. However, this was largely due to vitamin E acetate in black-market oil-based THC products.
For peace of mind, we recommend buying CBD e-liquids from UK companies and steering clear of oil vape products altogether .
Best for: Fast absorption, on the go.
Should I use an inhaler?
Inhalers are another fast route to get CBD into the system, much like vaping. When you press on the inhaler, a dose of liquid isolate oil from the canister is released into the back of the mouth before travelling to your trachea and into the lungs.
Inhalers are a more precise delivery method compared to vaping as you are given an exact dose per inhale. They are designed to ease the airwaves and improve breathing before transferring CBD to the system. It is more discreet as it can look just like an asthma inhaler rather than a vape device.
Best for: Getting an exact dose, fast acting, mess free.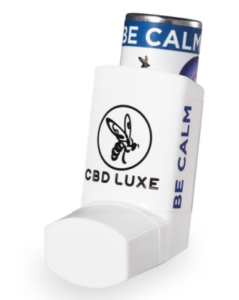 Should I use a CBD topical?
Topicals are great for relief from aching muscles and for treating skin conditions. The healing compounds are absorbed directly through the skin, allowing them to target a specific sore area for faster and more focused relief.
Apply a balm, lotion or oil to the affected area of the skin after a hot shower and allow it to sink in.
The American Academy of Dermatology suggests that topical products such as balms or lotions may help to manage acne, eczema and psoriasis.
Read more about how CBD could help Eczema
A study conducted in 2016 on rats discovered that topical applications could help relieve arthritic pain and inflammation.
Best for: Skin conditions, muscles and joints.
What about edibles?
Edibles are foods and drinks that have been infused with CBD. Edibles range from gummy bears to brownies to bars of chocolate and bottles of water.
CBD is extracted from a plant using a solvent before forming a concentrated substance. This is then added to the food or drink. It's fat-soluble which mean it works just as well in cakes as it does in pizza bases.
The big difference with edibles is that they take longer to work and some of the CBD is ultimately lost due to the metabolic process. This varies from person-to-person with variables such as height or weight.
CBD enters the hepatic portal system which is a series of veins that carry blood from the capillaries of the stomach, intestine, spleen, and pancreas to capillaries in the liver. It is part of the body's filtration system. The liver then metabolises the molecules which is known as the 'first pass effect.' This is then passed on to the bloodstream.
Best for: Easy to take, discreet, slow release of CBD, first time users, great on the go.
Read More: Can I absorb CBD through my belly button?
Should I take a tincture?
Tinctures are are way easy to take CBD by simply popping a small amount under the tongue and allowing the oils to absorb before swallowing.
The molecules are absorbed through the lining of the wall of the mouth, which is particularly sensitive, and beneath the tongue.
A tincture is made by mixing a CBD extract with a carrier oil, and sometimes a flavour to taste.
Tinctures are available in many different flavours which makes them a great option for those who may not like the natural hemp taste of CBD oil. Tinctures can also be added to food and drink.
Best for: Fast absorption, taking CBD on the go, adding to food.