CannaFull CEO takes on the cosmetics industry
Stepping into the cannabis industry can sometimes lead to difficult conversations with family members. CannaFull CEO Rick Messitt had an altogether different experience thanks to his 'work hard, play harder' haemophiliac grandfather.
"He was the kind of guy he would ride motorbikes, go fishing, do all the things you're not meant to do when you're a haemophiliac, because he just figured, 'well, I've got to live.'" Rick says.
"He'd have to take all these pills to manage his pain so he could fish and play the piano. He was an amazing pianist. Dexterity in his hands was super important for the things that he loved."
He got fed up with the painkillers and decided to try cannabis. Rick was in his teens at the time and cannabis was still very much a dirty word, so the family was sceptical. But they couldn't argue with the results.
"The transition was incredible. He was taking fewer opioids, his quality of life improved, his general happiness and everything came flooding back. He had a greater range of movement and his fingers which meant he could play a piano again.

"Our whole family seeing that – it's not really up for debate anymore."
A career in digital would eventually lead Rick to the inevitable transition into cannabis via Holistic Hemp based in Scotland. Rick's role was to push the digital marketing side but he soon found himself taking an interest in the front end of the business.
"I realised that to follow my passion, I really wanted to be in control of the products. So that's when CannaFull came along."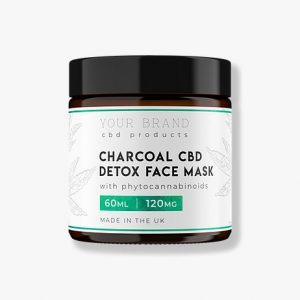 Cannafull provides white label cannabis solutions for the increasingly competitive cosmetics market. Rick has proudly amassed a small team with a solid cosmetics background. The years of collective experience provides a solid grounding for his customers to compete with established brands.
"At CBD expos, you see a lot of sort of cannabis brands selling cannabis products to cannabis people. Which is great but it's also quite easy.

"What I want is to grow out of this niche world. We want to make cannabis a household product. To do that, we really want to take aim at those bigger brands."
There are significant quality control and regulatory hurdles to jump through to establish a brand's credibility in this space. So along with requesting a COA from their suppliers, CannaFull tests all ingredients and finished products in house to ensure quality and consistency.
"I want to give these brands that solid foundation to make them not just the best CBD skincare products. We want to go after the best skincare products, period."
CannaFull has also developed a deep understanding of the opportunities and challenges offered by the EU and US markets. As they handle all the accreditation and offer labelling compliance guidance, all a brand has to do is design the artwork.
While the impending novel foods deadline will not affect cosmetics, it does signal a change to a more regulated future for CBD. Rick hopes that regulation will see some of the less reputable products disappear from the broader CBD marketplace. And if the cosmetics industry is to face its own regulatory reckoning, CannaFull customers will be covered.
"I think everybody panics too much, they don't just come and start smashing up shelves and taking all your bottles away. They give you quite a long period of time to get compliant.
"If you want broad spectrum or want to go the even safer route with isolate, then that's what we will do. We can change it batch to batch. But I really expect that, even for the next five years, it's going to be a moving target.
"I don't think we're anywhere near the end of this story. And I think cannabis brands that want to be successful really need to embrace that idea of flexibility. And it's going to be a long road."