CBD LIVE USA: Day Three in the Virtual Auditorium
CBD LIVE at VOXPO is back! This time, the dedicated CBD and medical cannabis event is set (virtually!) in the USA.
Featuring panel discussions, workshops, The CANNAVIST Awards and top brands of 2020, CBD LIVE has something for everyone.
DAY THREE – THE HIGHLIGHTS
Gut health, gastrointestinal disorders and the case for cannabinoid therapies.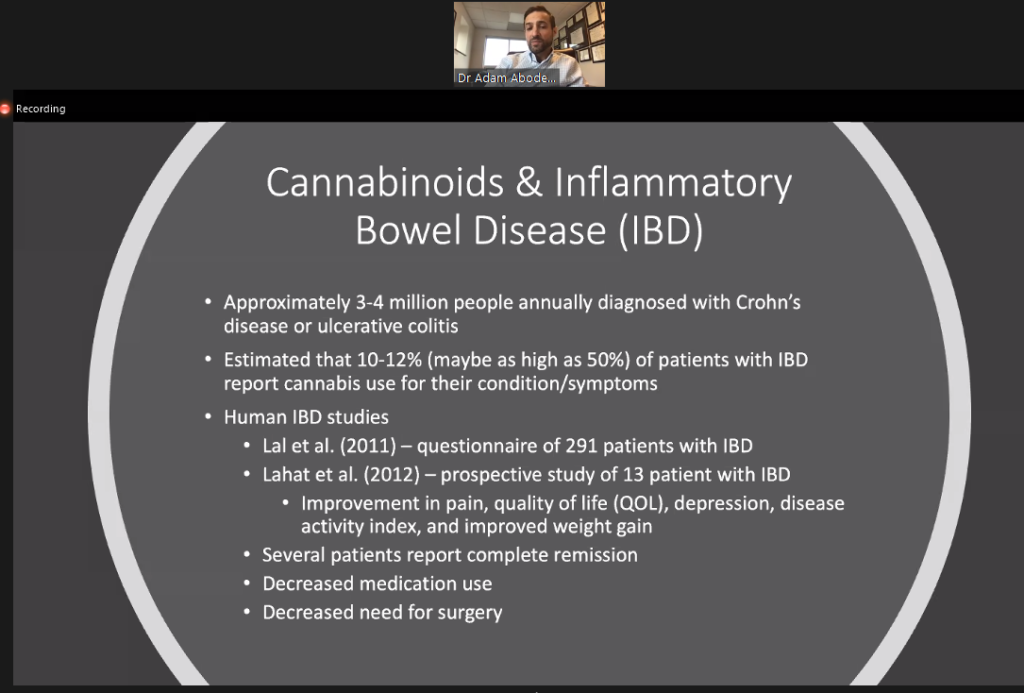 Dr Adam Abodeely, MD, MBA, FACS, FASCRS of the CBDIA & Founder of Reserve:MD joined us to discuss endocannabinoids, stomach disorders and cancers.
Adam started the presentation with the history of cannabis used in stomach disorders or illness, before touching on the use of cannabis to help with the treatment of diarrhea. This included hemorrhoids, cancers, nausea, inflammation and help with the weight loss associated with HIV/AIDs.
Adam gave us a detailed look at the endocannabinoid system explaining what it controls and where the cannabinoid receptors, Type 1 and Type 2 can be located. He also ran through a selection of diseases such as Coeliac disease, Diverticulitis and Irritable Bowel Syndrome.
He touched on how stomach acids could be decreased by cannabinoid interaction. Also, how THC has been shown to potentially increase water absorption. He did stress that early tests show that THCV could irritate the stomach however.
Adam took us through the statistics and studies on Irritable Bowel Disease (IBD), Crohn's Disease and what benefits that medical cannabis users could see. These benefits include reduced costs, reduced cancer diagnosis and also less hospitalisations. Adam mentioned that he has noticed great improvement in patients with IBS when treating with medical cannabis in particular. In colorectal cancers, it has been shown that cannabis could have a potentially beneficial effect by causing cell apoptosis.
He also suggested speaking to your doctor about the potential of cannabis treatments for stomach disorders or certain cancers.
Learn more about CBD in our CBD 101 section
The importance of breeding and genetics in hemp & cannabis.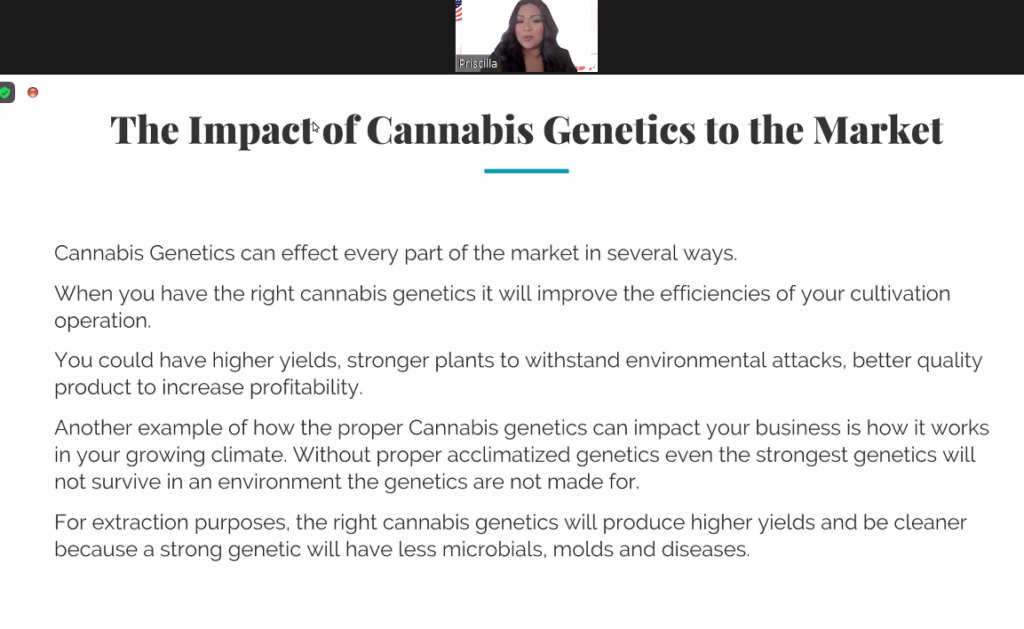 Priscilla P. Agoncillo, CEO Original Breeders League and President of the Board, CBDIA gave a presentation on the importance of breeding and genetics in relation to cannabis.
Cannabis genetics can effect every part of the market from stronger plants, environment, prices and also business growth. Currently problems in the market according to Priscilla are that there is ineffective cultivation resulting in farmers losing crops, a lack of diversity which means that there is no innovation if farmers are all growing the same crops. She also highlighted the issue of unverified genetics which could mean that farmers have no idea what is in their crops which in turn means potential issues when it comes to legal THC levels.
Priscilla referenced seed banking, tissue culture, whole genome sequencing and also genotyping when it comes to preserving and micropropagation. She gave a detailed presentation on the different types of cannabis breeding including traditional breeding, genetic modification and CRISPR, cross-breeding and selection.
She shared tips on how to include genetics into a business model such as ensuring a good breeding program is in place. Asking a farm about their program then placing importance on access to diverse genetic library, understanding the history of breeding and expertise in breeding programs which, she stressed, is rare as not many people specialise in this field. In a positive note, technology is helping breeders to get better results by increasing production and making the process easier.
CBD Yoga Class – Afternoon Stretch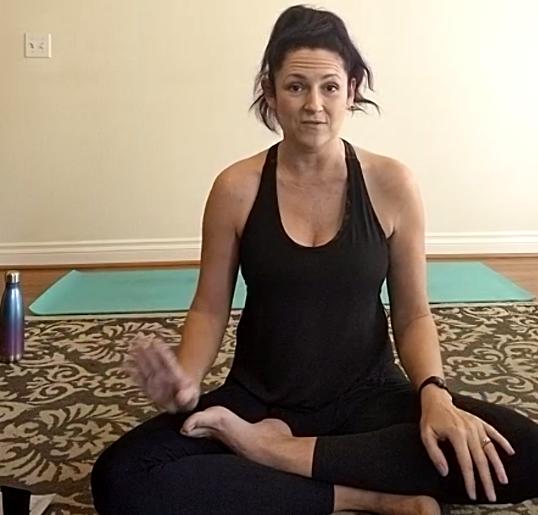 Cheri Smith, Yoga Teacher and CBD Educator ran another success workshop after her relaxing meditation on Day one. This time, the workshop focused on yoga which gave us all the chance to get moving after the morning's presentations.
Cheri started with some CBD and cannabis education before taking us through some yoga positions.
Read about Cheri's mediation workshop and all of the other presentations at CBD Live Day One
The challenges of CBD and e-commerce.
Shomi Malik Development Director, The ACI; Romeo Sacco, Head of Online Beauty, Naturecan; Andrew Duckworth Founder & CEO, Naturecan; Pete Gove Secure Payments.
The panel discussed the problem of regulations in the US when it comes to processing payments. Financial institutions have introduced unnecessary regulations on the industry and there about 4 banks accepting CBD or cannabis products currently.
Andrew from Naturecan spoke about how difficult it was in the UK to source a bank that the brand could trust. He described it as one of the biggest challenges and barriers to starting a business. This wasn't something he had expected as he came from a protein business background not a cannabis one where there was more stigma and regulations. Although the company have sorted this out, they are still paying high rates.
Pete Gove spoke about the US needing more regulation clarity especially around CBD vaping. He highlighted that the UK has a great 'pathway to freedom' in place which allows him to do a lot more business.
Romeo comes from a beauty e-commerce background which led to his introduction to CBD products. He noticed there was increase in CBD searches on their site as customers looked for products they could use daily. He is currently helping brands to meet regulations in order for e-commerce sales. He mentioned that beauty brands are currently focused on acne as customers have been searching for products.
Andrew highlighted that the ACI have been helpful and key in getting their business over the regulatory hurdles and getting their products ready for consumers.
The panel agreed that consumers are older and looking for a high quality product rather than the stereotypical younger recreational user. Shomi mentioned that CBD fits into the current move towards vegan and healthier lifestyles which have increased in popularity over recent years.
Catch all the highlights from Day two of CBD Live
Lt. Col. US Marine Corps, Ret. and Warfighter Hemp founder on CBD and PTSD for veterans.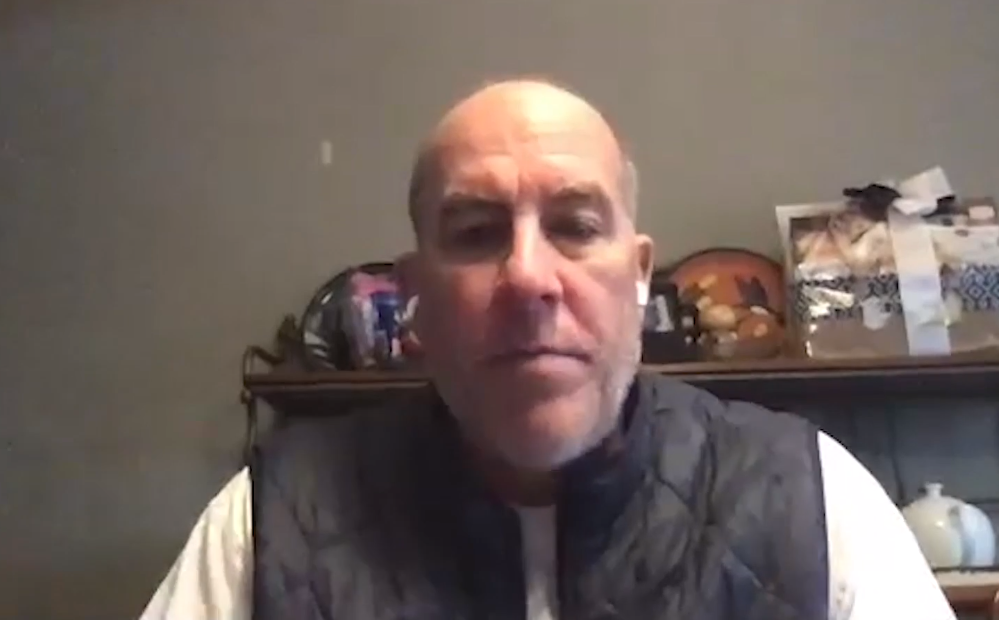 Steve Danyluk, Lt. Col. USMC, Ret. Founder of Warfighter Hemp joined Cannavist editor, Róisín Delaney to discuss PTSD and CBD for veterans.
Steve is a retired marine who was deployed in Iraq. On his travels to veteran hospitals, he realised that there were a lot of mental health issues as a result of their duty who were being prescribed opioids and other drugs. He referred to this as 'the zombie cocktail' with a complete loss of who they were prior to this which he described as 'painful to see.'
He started to see more veterans turn to cannabis as an alternative to the stronger drugs they were being prescribed despite the issues with legality. Being caught with cannabis means they face losing their veteran benefits. Steve said he is scared to even say the word, marijuana in case it pops a positive test!
Warfighter Hemp were the first company to gear their product towards veterans. Steve said it's been an emotional success rather than a financial one as he has seen veterans return to their normal selves after using the products.
The company have a non-profit side where they donated a percentage of the profits from the sales of their CBD. They primarily donate to help veterans afford wheelchairs.
Steve highlighted that the US news cycle, stigma and ignorance about cannabis is causing a problem when it comes to people trying it or lawmakers enacting change. COVID-19 as Róisín pointed out has not helped.
Creating a sustainable and prosperous Hemp & CBD market for Europe.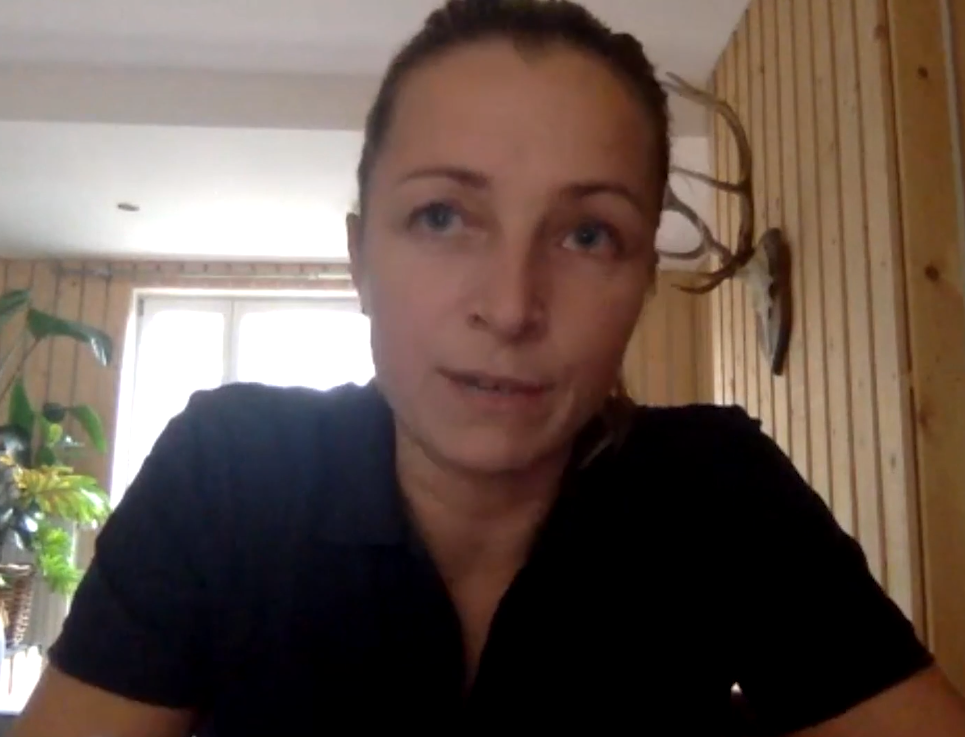 Lorenza Romanese, MD for The European Industrial Hemp Association (EHIA) joined Cannavist editor, Róisín Delaney to give a presentation on the market for European Hemp and CBD.
Lorenza spoke about the work of the EHIA and what they do for their 300 members. The association have, due to demand, expanded in recent months.
She stated that regulations need to be clearer to encourage bigger players to get into the industry. The uncertainty means no big investment which is having knock on effects across different industries.
Lorenza went through the background of CBD in relation to novel foods going back to the launch in 1997.
Roisin asked about the labelling as a narcotic which has only just overturned. Lorenza had been concerned about the potential of this as she felt it would be the end of the market.
She is concerned that what happens in 2021 will be make or break for the market. In terms of investment, she suggested not basing a business model on isolate CBD as there is so much already available.
Roisin wrapped up by mentioning the dreaded B word: Brexit. She asked Lorenza what she sees happening. Lorenza mentioned the attractiveness of the European market in comparison to the UK and that it is going to be a big job to create a new market in response to Brexit. It will mean more freedom however. She does think that UK CBD will not stray too far from what is deemed safe in Europe as to avoid losing out.
Get the latest on this development: Breaking: EU rules that CBD is not a narcotic in French free movement case
The CANNAVIST x Sx Tech EU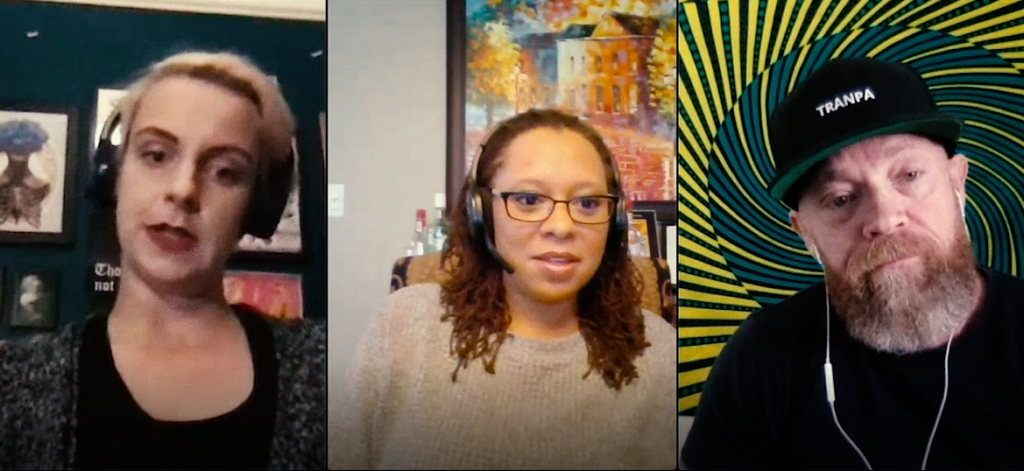 For our penultimate talk of the day, we had something a little different, with a collaboration between The CANNAVIST and Sx Tech, Berlin.
This panel on sexual wellness was chaired by The CANNAVIST'S Caroline Barry.
Raven Faber founded EngErotics as a canna sex tech company in 2016.
Buck Angel started in the sexual wellness space 20 years ago and, like Raven, is a champion for CBD for sexual wellness and has seen the benefits the industry has given to people from all backgrounds.
Raven explained that CBD was not just a way of treating conditions like pain and anxiety, it was a great tool for enhancing the sexual experience.
She explained that CBD can open blood cells, increase lubrication and sensitivity and boosting mood, helping you out of a negative headspace in the moment.
She also explained that people were using CBD to treat conditions such as endometriosis to enable them to better enjoy their sexual experiences.
Buck explained how the movement to legalise cannabis in the US was driven by the gay community who were reaching for alternatives to HIV and AIDS medications.
He also explained that cannabis provides benefits specific to trans men so it's important that people working in that space have a platform to share their experiences and promote the benefits of cannabis.
Raven and Buck also discussed the fact that US prisons are heavily populated by people of colour, many of whom have been imprisoned for cannabis offences.
While the white, middle-class cis men are profiting from legalisation, POC remain in prison serving long sentences.
"Intersectionality is so important, so being at the intersection of being a woman and being black, then being a black woman who is also a lesbian, or women who have transitioned.

"It's not black or white, male or female. It's very fluid. But historically, a lot of the funding has gone to cis-gendered white men."

Raven Faber, Founder and CEO, EngErotics