CBD and pregnancy: What does the science say?
Expectant mothers may wonder about CBD. But is it safe to use during pregnancy or while breastfeeding?
More and more people in all stages of life are reaching for CBD these days, including pregnant mothers.
Expectant mothers may consider using CBD to help manage their pregnancy or a health condition.
So what research is out there about CBD and pregnancy? And is it safe?
Morning Sickness
Morning sickness is the term used for the nausea and vomiting that often features in the early stages of pregnancy.
A study published in the British Journal of Pharmacology found that CBD had an antiemetic effect, meaning that it helped to suppress nausea.
The researchers attributed this to the indirect interaction between CBD and 5-HT(1A) receptors in the brain.
They concluded:
"Preclinical research indicates that cannabinioids, including CBD, may be effective clinically for treating both nausea and vomiting produced by chemotherapy or other therapeutic treatments."
Is CBD safe during pregnancy?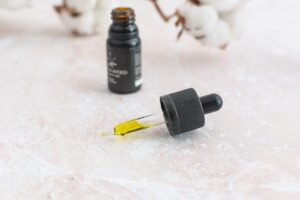 There are few studies of the effects of CBD on pregnancy or newborns.
In a 2016 study published in the Journal of Obstetrics and Gynaecology, researchers found no significant neonatal outcomes when using CBD to help with acute and chronic symptoms during pregnancy.
It is worth noting that the US Food and Drug Administration (FDA) advises against the use of CBD or THC during pregnancy or breastfeeding.
The concern is due to a U.S. Surgeon General report which warned that THC could pass through the bloodstream, resulting in an increased risk of low birth weights.
However, there is no comprehensive research exploring the effects of CBD on development, in pregnant women or in breastfed children, although the FDA is continuing to examine the current body of evidence..
What is the difference between CBD and THC?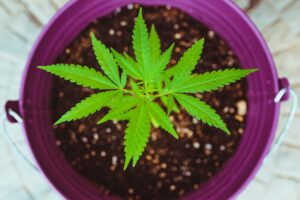 CBD and THC are compounds found in abundance in the cannabis plant and both possess potential health benefits.
However, it is THC that is responsible for the recreational 'high' effect that can be undesirable for people using cannabis for medical reasons.
Most commercially-available CBD wellness products found on UK shelves contain only trace amounts of THC or none at all.
Is CBD safe during breastfeeding?
When breastfeeding, mothers need to be careful to monitor the consumption of certain foods and drinks as these can pass through their milk and into their baby.
Research into cannabis use and breastfeeding is primarily focused on THC.
The FDA reported that THC can pass through breast milk so they do not advise that nursing women consume cannabis.
This may be based on a study published in the Journal Pediatrics, which showed that THC can be found in breast milk up to six days after a mother has consumed cannabis.
The Food Standards Agency in the UK, like the FDA in the US, cautions against expectant and breastfeeding mothers using CBD, as there is a lack of clinical evidence to say whether it is safe or not during / post-pregnancy.
As with any health condition, The CANNAVIST advises readers to consult with a doctor before taking CBD.
Related: 5 surprising ways CBD may help with period problems