SCIENCE
USA: Former FDA commissioner proposes ad hoc CBD regulations
Former Food and Drug Administration (FDA) Commissioner, Dr Scott Gottlieb, has proposed ad hoc CBD regulations for the American market.
The former FDA boss has called on the public health body to implement necessary measures to protect the safety of consumers.
Gottlieb, who now sits on the Board of Director at Pfizer, advised this ad hoc plan should be taken under consideration by the FDA whilst their final rules regarding CBD regulation are developed.
In a twitter thread, he said:
"With use widespread, the question is whether the FDA can help oversee quality, purity, potency and help prevent third rate purveyors from flooding [the] market with shoddy products outside regulatory purview."
According to the former physician, burdens should be put on manufacturers to prove product safety.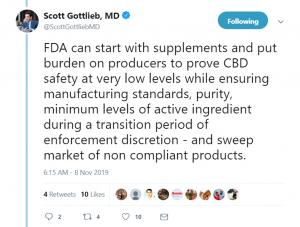 "Safety must be the first principle. [A]nd appropriate claims grounded in science. CBD is not safe and has largely unproven benefits outside a small subset of very carefully studied indications. The vast majority of claims being made by illegal producers will never be sustained."
However, scientific evidence suggests that CBD may relieve symptoms of anxiety and depression, chronic pain, and epilepsy.
Unsubstantiated claims are an issue in the CBD industry, and this is something the FDA have warned companies against.
Recently a Florida-based company, Rooted Apothecary LLC, came under fire for making false medical claims.
The FDA is yet to issue any rulings regarding CBD supplements, but earlier this year did announce an analysis of CBD in food and beverages.
In October, Democratic Senate Minority Leader of New York, Chuck Schumer called for the FDA to issue guidance regarding hemp-derived CBD regulation.
He said:
"CBD is brimming with potential to be a billion-dollar industry across New York State, bringing along countless and jobs and truly meaningful economic development with it. But before that can happen, farmers, growers, producers, consumers and vendors need to know exactly what the rules of the road are."

"Right now, they've got no idea."

"That's why I'm calling on the FDA to do its job in a timely manner and issue guidance related to CBD classification, labelling, quality, marketing and sales."
The FDA official website currently hosts the following statement: