FOOD
On the menu: Açaí superfood bowl with added CBD
This açaí superfood bowl with added CBD is now on the menu at Vedi, Derby.
Thanks to Vedi Vegetarian Deli and CBD EasyMix for this recipe.
This newly opened vegetarian deli café in Derby specialises in plant-based food from around the world. Whether you want to try a mouth-watering wrap, a superfood salad, smoothie bowl or to just enjoy a cup of organically grown coffee.
Vedi, run by Bal Dhamrait, strikes us as a welcome environment with really friendly staff who can talk you through the menu. Every menu choice is lovingly prepared on site on a daily basis using the finest local and organic produce. Bal strives food in a friendly and sustainable way and recently started serving up a twist with CBD EasyMix.
Scroll down for the recipe.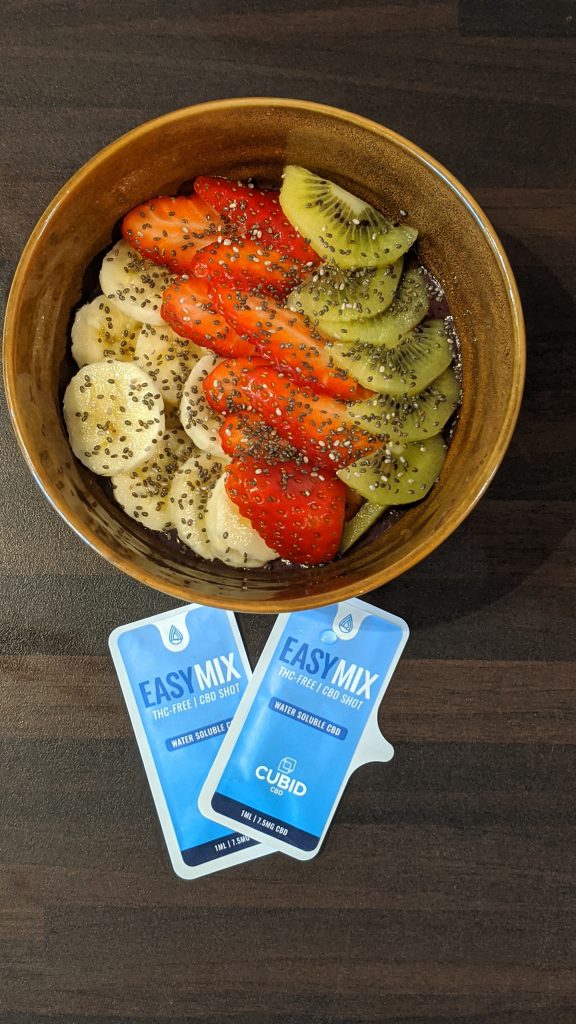 Açaí bowl
You will need:
· 100g of frozen açaí
· 1 frozen banana
· 1 tbsp of vegan yoghurt (or apple juice)
· 1 tsp of agave
· 1 x CBD EasyMix Water Soluble shot
· 1 kiwi to top
· Banana to top
· 1 handful of strawberries to top
· 1 handful of granola


Method:
1. Add the açaí, yoghurt and agave to a blender and pulse on a slow speed until smooth.
2. Break up the banana into chunks and add to the blender. Blend until a smooth consistency has been achieved. You want to reach a consistency like part melted ice cream. If blended for too long the açaí will get warm and turn into a smoothie.
3. Add in one CBD EasyMix Water soluble shot and stir.
4. Top with granola and suggested fruit garnish, we've gone with kiwi, banana and strawberries.


Vedi Vegetarian Deli & Coffee House
26 Liversage Street, Derby, DE1 2LH
Tel: 01332 340055