Best Alternative Advent Calendars for 2021
There is nothing more exciting on December 1, than opening the first window of your advent calendar, marking the official start of the Christmas countdown.
Gone are the days when the go-to calendar of the year was the Dairy Milk classic from Cadbury. The industry has changed and welcomed a range of healthy alternatives to the scene. Whether you want a new candle for each advent evening, a new flavour of tea or some indulgent skincare, there's an advent calendar for it.
We've searched high and low for the best wellbeing alternative advent calendars for the 2021 Christmas period so you don't have to.
The best 2021 alternative Advent Calendars:
The Body Shop: Share Love, Joy & Kindness Exclusive Advent Calendar, £320
This beauty advent calendar from The Body Shop offers you between one and three surprises every single day in the run up to Christmas, a total of 44 gifts to pamper you from head-to-toe. The products will provide you with complete skincare, body care and haircare routines, helping you create a new you ready for the new year.
Not only are The Body Shop offering a large range of goodies, they are also providing you with a little act of kindness so you can spread love and joy with your friends, family and your community as a whole.
You can save £175 on The Body Shop products when you buy the advent calendar.
The Bearded Man Beard Oil Advent Calendar, £30
This advent calendar is perfect for the bearded man in your life. Each day, until Christmas Eve, you will receive a 2ml bottle of scented beard oil, a different scent each day. Your beard will thank you while it smells and looks amazing every single day in December and beyond.
These oils are 100% natural, so there is no need to worry about anything harmful.
Foodspring, Vegan Fitness Selection Advent Calendar, £54.99
Foodspring's Vegan Fitness advent calendar has been created with your fitness goals in mind. They have created their calendar so you can enjoy the Christmas feeling without losing sight of your fitness goals. Each window is packed with vegan protein sachets, amino sachets and other full-sized fitness products, including a selection of their bestsellers.
The advent calendar is worth over £100 in goodies.
Nourished Advent Calendar, £59.99
Why not give the gift of wellness this Christmas season? Nourished have created an advent calendar with the goal of supporting your health in the run up to the big day. The advent calendar contains a four-week combination of Life Stack blends to keep the recipient "Nourished" throughout the festive period. The 24-day countdown is packed with care and nourishments to get you in tip top condition for the next year ahead.
Pukka Christmas Calendar, £9.99
If chocolate is not your cup of tea, Pukka tea bags will be. Instead of a window a day of little Christmas-themed chocolate, Pukka are offering a tea bag countdown. Each day, you will receive a different herbal tea to try, each in a recyclable sachet. For only £10, you can cosy up into a warming cup of herbal bliss each morning, noon or night.
Imperial Candles Advent Calendar, £79.99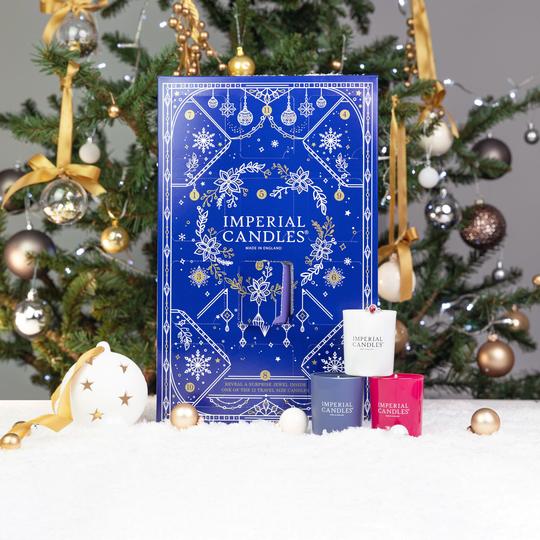 There is nothing more comforting than a flickering candle in the background on a cosy winter's night. What makes the candle even sweeter? Hidden jewellery inside (with a chance of actually getting jewellery worth up to £2,000 in your candle!) Imperial Candles have created an advent calendar with their iconic surprise candles. The calendar features 12 travel size, natural soy wax candles, all with the hidden jewellery. Picky about jewellery? You have the choice between rings, necklaces or earrings.
The products in the calendar are worth £120.
OTO Ritual CBD Advent Calendar, £299
Celebrate the 12 days leading up to Christmas well with OTO's CBD advent calendar. Offering 12 immersive CBD rituals, which they have designed to be commenced on Monday December 14, the calendar will take you on a journey though the best of OTO's premium CBD experiences.
The 12-day calendar is filled with products worth an incredible £599 when sold separately.