LIFESTYLE
Life hack: A guide to working from home during lockdown
Our top tips for working from home while staying safe indoors, and maintaining some level of mindfulness with CBD.
Pay cuts, furloughs and running out of snacks… Just some of the serious and mundane realities you may be experiencing in the Great Indoors.
Whether you are running a small business or are part of a large workforce, lockdown means you may have no other choice but to turn the spare room into an office.
Here are our top tips for getting the job done while staying safe indoors, and maintaining some level of mindfulness with CBD.
1. Balance is key to finding your new normal
Use this time to reflect on how you have been spending your days. Could you be more efficient with fewer office distractions? Is it easier to communicate with colleagues over technology rather than time-consuming meetings?
Think about what a regular day at the office is like for you, then take the best parts of that routine and make it your new plan of action.
You may not need to get up so early, as the office is in the next room. An extra hour in bed? Yes please!
Find time for yourself, away from the desk while staying safely indoors. Take some CBD and set Spotify to a wellness soundtrack. Whether you want to sit in stillness for 30 minutes, read a magazine or get active and partake in a virtual yoga class, the choice is yours. Namaste 🙏
2. Podcasts for productivity
BBC Radio One's Life Hacks produced a special 35 minute podcast about stress, anxiety and the worries many will be experiencing while being stuck indoors while working from home.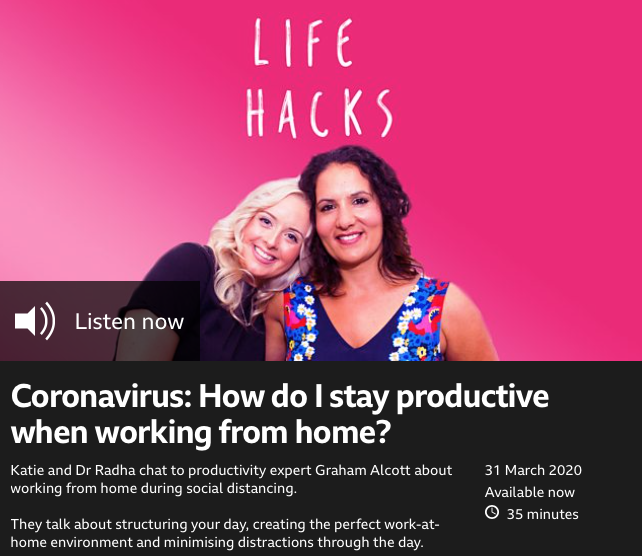 The show features productivity expert Graham Alcott. From writing books to consulting for businesses, Graham has become a master at working from home, having been based in his garden shed-turned-office for the last decade.
Graham says it's important to be able to shift your mindset from home to the office in the mornings.
"For many years, I've actually walked to work, even though I work from home. I'll go and jog around the block or go to get the milk for my cup of tea in the morning, to do something that gets me outside.

"Doing that at the start of the day allows you to gather your thoughts a little bit.

"If I've had a shower, I know I'm in work mode."
Click here to listen to this 35 minute productivity podcast for free!
3. Use your daily exercise allowance (thanks Boris)
Boris Johnson wants to 'get COVID-19 done' already.
But while we wait for the world and the economy to recover from this crisis, we need to keep moving. While on lockdown in the UK, we can all get out once a day to stretch the legs and absorb that all important Vitamin D, while social distancing.
The NHS advises that we need to get 150 minutes of exercise per week, and to limit the amount of time in the chair to prevent illness.
"To reduce our risk of ill health from inactivity, we are advised to exercise regularly, at least 150 minutes a week, and reduce sitting time."
Exercise can lift our mood as it releases endorphins, which are hormones produced and stored in the pituitary gland. Endorphins are responsible for giving that 'runner's high' as they activate the body's opiate receptors, causing that feeling like you can do absolutely anything after a tough work out. 💪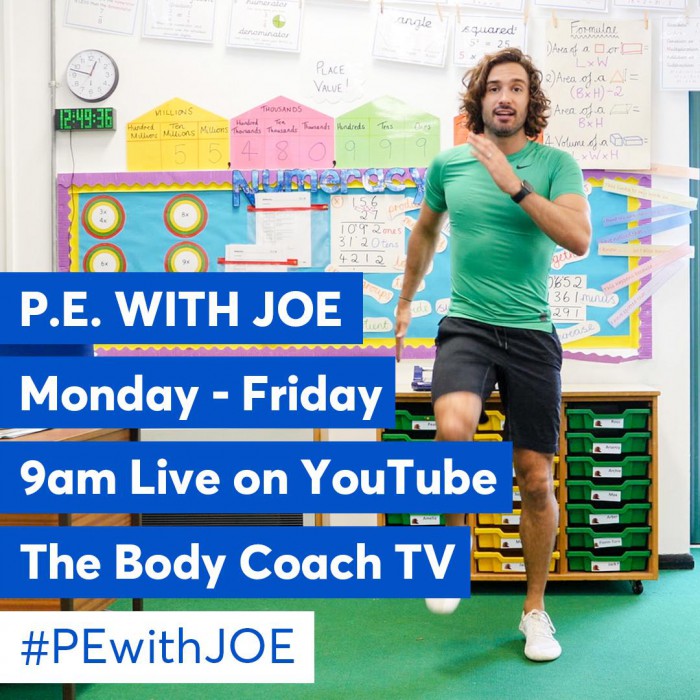 Join the nation's PE teacher, Joe Wicks, aka The Body Coach weekday mornings at 9 to help you stay active indoors.
Joe is single handedly (no really, he has a broken arm) transforming the physical and mental fitness of the UK and beyond with his at home happy dances and spider man moves.
He's also donating all profits from his daily virtual PE classes to the NHS.
By week two of lockdown Joe and his followers had raised £80,000.
Sore after your new found love for at home workouts? Try adding a few drops of CBD to your protein shake or smoothie, or take some orally to help with muscle ache.
4. Bad days are to be expected, but that's OK.
Decision fatigue is real folks.
It can cause us to have bad days and lack motivation, on top of all of the other stress and anxiety that seems to be going around.
Social psychologist Professor Roy Baumeister, based in Ohio, specialises in work on the self, social rejection, belongingness, self-defeating behaviours and motivation, among other areas of wellbeing.
His research shows that the more that you try and avoid doing something throughout the day (like trying not to scoff too many biscuits out of boredom) the more we deplete energy levels as the day goes on.
Graham Alcott, who is a believer of Baumesiter's theory, says whatever you need to get done on a given day, do it in the morning.
"So many of us are getting to four or five o'clock and feeling frazzled, brain fried, with everything that's going on.

"If I've got to make sense of stuff, I want to try and do that earlier in the day."
Remember, if you're feeling down, pick up the phone and call a co-worker or a friend. Chances are they are feeling the same right now.
If you haven't tried CBD before, now is as good a time as ever. Subscribe to The CANNAVIST, your essential guide to CBD, packed with expert advice and product recommendations to help you get started.