Thinking about vaping your CBD? Check out the top kits of 2019
CBD products have seen a meteoric rise in use over the last 12 months, and now that more people are open to the idea of vaping CBD, the community has extended beyond experienced users. Vaping is one of the quickest ways to consume CBD, whilst being incredibly convenient at the same time, so what kind of vape gear will help you get the most out of your chosen product?
First of all, it helps to understand what goes into a CBD e-liquid. This will give us an idea of what equipment will be optimal to use with it. The main ingredients are Propylene Glycol (PG), Vegetable Glycerine (VG), CBD isolate and/or terpenes and in some cases, food grade flavourings.
PG and VG form the base of any CBD e-liquid. PG has a watery viscosity, and produces minimal vapour, whilst carrying flavour compounds very well, along with a throat hit. VG has a much thicker viscosity and produces large amounts of vapour with minimal throat hit.
As a result, we can consider CBD e-liquids with a VG:PG ratio of 70:30 or higher more suited to high power tanks, with large coils and wicking ports, whilst CBD e-liquids with a VG:PG ratio of 60:40 or lower are more suited to use in low powered tanks, with smaller coils and wicking ports.
Invariably, the CBD content of CBD vapes will cause coils to degrade more quickly than standard e-liquids. Products with particularly high in CBD strength, or full spectrum products are likely to emphasise this effect. It's good to use a device that efficiently consumes CBD, since we all know that quality products of this nature are not cheap.
Recommended low power CBD vape kits
Renova Zero Pod
Price: £25
Recommended VG:PG ratio: 50:50 – 70:30
The Renova Zero pod system, manufactured by Vaporesso, is ideal for those new to vaping CBD. It has just one button, allowing the user to choose from three power levels, and is draw activated. Aside from its small size, good battery life and ease of use, the reason this kit works so well for CBD is the coils. Vaporesso use their proprietary ceramic CCELL coils in the Zero. The ceramic wicking action in these pods is more resistant to CBD build up, resulting in good coil longevity. The adjustable low power output is also ideal for new users, who should be starting out with lower doses of CBD. A great, affordable option for beginners, with wide availability.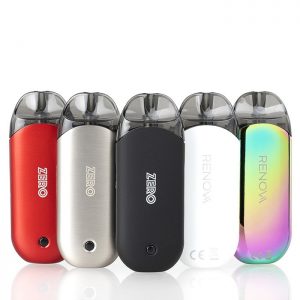 Innokin EQ
Price: £19.99
Recommended VG:PG ratio: 50:50 – 70:30
Innokin will be no stranger to veterans of the e-cigarette world, but they haven't gone out of their way to pursue the CBD vaping market. Nonetheless, the EQ is a fantastic choice for new CBD vapers. Innokin's Plexus mesh coils are also quite resistant to CBD build up, and the EQ features a power level selection very similar to the Renova Zero. The EQ provides a slightly looser draw though, with increased vapour production, so if this is something that appeals to you, it may be the more suitable choice.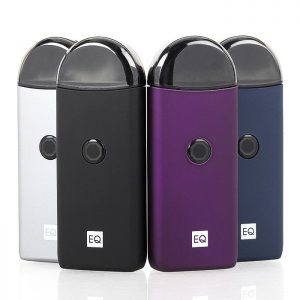 Recommended high power CBD coils
Higher power vaping is not recommended for new CBD users, as it may result in higher dosages being consumed. If you already have a tolerance to CBD, however, this may be the best way for you to vape it.
Vaporesso GT CCELL coil
Price: £20-30 (compatible tank) £3-4 (coil)
Recommended VG:PG ratio: 50:50 – 70:30
The Vaporesso GT CCELL is a sub-ohm coil compatible with all Baby Beast style sub-ohm tanks. This utilises the same ceramic wicking action found in the Renova Zero pod, but is optimised for higher power output. Low-medium dose CBD e-liquids work very well in these coils, anywhere between 25W-35W. Similarly to the Zero pod, the GT CCELL coils resist CBD build up and result in a satisfying and efficient vape.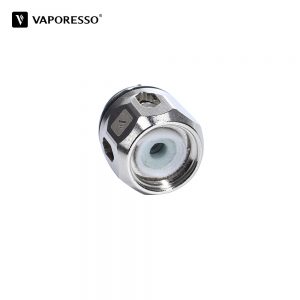 Geekvape X2 Supermesh coil
Price: £20-30 (compatible tank) £3-4 (coil)
Recommended VG/PG ratio: 70/30 and higher
The X2 is Geekvape's newest mesh coil, and has a very low power requirement for it's size. As with other mesh coils, the X2 does a good job of resisting CBD build up and also produces fantastic flavour, which is a big plus for those who enjoy full spectrum or flavoured CBD products. The sweet spot for these coils is anywhere between 35W-40W, which results in a fuller, warmer vape than the GT CCELL.  As the X2 coils are cross compatible with any tank that accepts the Vaporesso GT CCELL coils, you can try both without purchasing multiple tanks, and see which is more suited to your needs.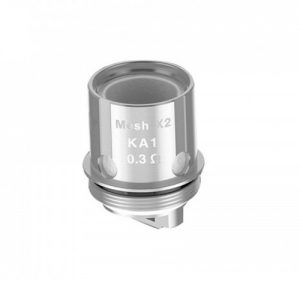 These devices should give you a great start to vaping CBD, but since this industry is growing so rapidly, it's inevitable that we will see plenty of innovation and improvement in a short space of time. We will continue to search for the very best CBD vaping products, so check back regularly for product reviews, news and updates.