LIFESTYLE
The Oscars 2019: CBD steals the show in this year's gift bags
It's awards season, and this year the biggest stars at the 91st Academy Awards will receive swag bags filled with various CBD products.
Win or lose, the top 25 nominees up for an Oscar this weekend will walk away from Hollywood's biggest night of the year with an estimated $100,000 worth of products. In pounds sterling, that's almost £77,000.
Forbes picked up on the dominance of cannabinoid-based products in this year's goody bags.
Speaking to the site, official organiser of the luxurious items and Founder of Distinctive Assets, Lash Fary said this "is tied to the legalisation of cannabis in California."
While we won't be in attendance (sadly, we just can't make it this year) let's take a look at the CBD 'It' products that made it into the most sought after goody bags in the world.
Coda Signature edibles, vapes and beauty 
Stars can look forward to finding several Coda Signature products in their 'Everyone Wins' gift bag.
The 'gourmet cannabis' brand has provided a range of its cannabinoid products for this year's nominees, including chocolate, bath bombs and vape gear as it prepares to launch in California in the coming months.
Marking the achievement for the Colorado-based company, co-founder and CEO Mark Grindeland said in a press release:
"With our California debut just a few months away, Coda Signature is thrilled to partner with Distinctive Assets and take part in this classic Hollywood tradition.

We celebrate creative artistry in everything we do at Coda Signature, and we hope that the nominees enjoy our products as much as we enjoy their exceptional contributions to the world of film."
Nannette de Gaspé Bain Noir Bath Soak 
Nannette de Gaspé is another brand which believes in helping women look and feel their best from the inside out. Brand curator and one-half of Canada's power couple, Nannette de Gaspé Beaubien was named Woman of the Year for the Americas by Cosmetics Design.
Together with her husband, Philippe III, the Quebec couple are behind the Canadian vodka company, PUR.
They also founded the de Gaspé Beaubien Foundation, the Family Business Foundation and multiple other organisations.
Nannette de Gaspé products are available to buy in the UK at Selfridges, where the Bain Noir bath soak retails at £250.
CBD RX SUPREME anti-aging treatment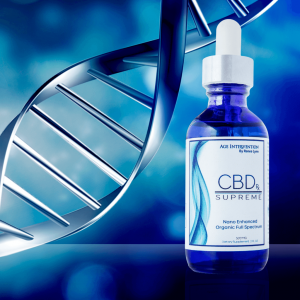 Beauty's new high?
This organic anti-aging treatment doesn't contain THC, or additives or alcohol and retails at £110.