Medical cannabis among the most effective, safest treatments for long term neuropathic pain
The findings from an international study commissioned by a British independent scientific body on drugs show that medical cannabis is a safe, viable option for those with chronic pain.
A new study has found that medical cannabis is among the most effective treatments for people with long term, problematic neuropathic pain.
The new paper published in a peer-reviewed journal has also found that medical cannabis is safer than other commonly prescribed medications.
Researchers have concluded that patients taking cannabis-based medicines would be less likely to experience many of the side effects associated with more established treatments, including overdose.
The study was conducted by a panel of international experts, patients and clinicians. The paper compares the benefits and safety of medical cannabis to those of the nine drugs that are most commonly prescribed for neuropathic pain in the UK.
Among the conventional medicines pitted against cannabis in this study were Tramadol, Ibuprofen, Methadone, Oxycodone, Morphine and Fentanyl.
The analysis found that a THC:CBD medicine at a balanced ration of 1:1 is safer than other commonly used medications for Chronic Neuropathic Pain, such as Amitriptyline and Tramadol.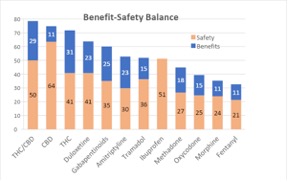 David Badcock is the CEO of Drug Science, the UK-based advisory committee which commissioned the paper. He says:
"Since being made legal in 2018, many patients suffering from neuropathic pain have told us that cannabis based medicinal products are effective in reducing their pain and its negative impacts on their everyday lives. However, due to a lack of UK research into the clinical effects of cannabis, doctors are still unwilling to consider it as a treatment and too many patients are going without the support they need to live an
improved life.

"We are pleased to say that this paper corroborates what many patients have been saying for many years, and helps to build a convincing case for more widespread prescription of medical cannabis on the NHS."
Drug Science is a leading independent scientific body on drugs in the UK which works to provide clear, evidence-based information without political or commercial interference.