The athletes using CBD in training for the Tokyo 2020 Olympics
Many high-profile athletes have been using CBD products as part of their preparation for the delayed Tokyo 2020 Olympics.
This is the first time that elite competitors are opening up about their use of cannabis supplements in the build up to the world's biggest sporting stage.
At the forefront of the movement is U.S. Soccer Women's National Team star Megan Rapinoe, who confirmed that she uses CBD as part of her rigorous training regime.
Rapinoe uses products from Mendi, which was founded by her sister Rachael, along with hurdler Devon Allen, softball outfielder Hayley McCleney and WNBA champion and four-time Olympic gold medallist Sue Bird.
The athletes are said to have expressed the desire to move away from over-the-counter drugs and opiates in dealing with the stress and anxiety of high-level competition, in favour of the "healthiest option".
Rapinoe told Forbes: "CBD has become part of my all-natural recovery system that I use throughout the day to help with pain and inflammation, stabilize my mood and get better sleep. Instead of taking Advil or other pain management meds, I've almost exclusively substituted with Mendi CBD products.
"I use them right after training, pop in a gummy or gel capsule for pain and to calm me down, then another gummy in the afternoon to relax, then the night tincture right before bed for better sleep."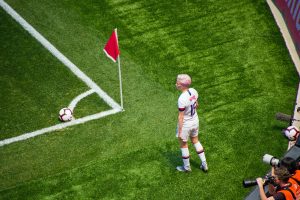 Mendi founder, Rachael Rapinoe, believes that CBD will one day become a staple of training regimes around the sporting world.
She added: "We've been there on the journey to get these athletes to the world's biggest stage, and they've been taking our products every day for the past year or two years to help them with marginal gains.
"Every time you get a better night's sleep, every time you recover better from the last batch of exercise, then your performance is going to be better the next time."
Although plenty of performers have been using CBD in their preparation for the games, Japan's strict anti-cannabis laws prevent them from continuing the regime once they have entered the country.
The World Anti-Doping Agency removed CBD from its list of prohibited substances in 2017, coming into effect on January 1, 2018. This gave participants plenty of time to incorporate CBD into their training for Tokyo 2020.
However, THC and other cannabinoids remain on the list of banned substances in sport, as enforced recently when aspiring Olympic sprinter Sha'Carri Richardson was disqualified from Tokyo after testing positive for the compound.